Hooked on Starfield & Diving into Unreal 5.3—This Week in Game Dev 🎮
👋 Welcome!
A lot has been going on recently in the world of game dev, but a lot has also been going on in the world of games in general. Recently we saw the release of Bethesda's Starfield and quite honestly I have been hooked. So hooked in fact, that I missed sending out last weeks newsletter, so apologies!
That being said, let's dive into this weeks game dev news!
Unreal Engine 5.3
This week sees the release of Unreal Engine 5.3, which is jam packed full of awesome new features for creators of all kinds. This includes improvements to the core rendering features, multi-process cooking (no, not in the kitchen!), a Cine Cam Rail actor for virtual tracks and dollies, VCam enhancements and more. As well as these, UE 5.3 has some new experimental features for you to play with such as cinematic-quality volumetric lighting, orthographic rendering, a skeletal editor (shown above) and much more.
Atmospheric Retro FPS by Two High School Friends
While we're on the subject of Unreal Engine, they recently wrote a blog post detailing the retro-inspired first person shooter, Kvark. This game was created by two high school friends using Unreal Engine 5.1 and the post dives into the founders and how/why they created the game with UE. It's an inspiring and insightful read, I highly recommend you check it out.
Godot 4.2 Dev 4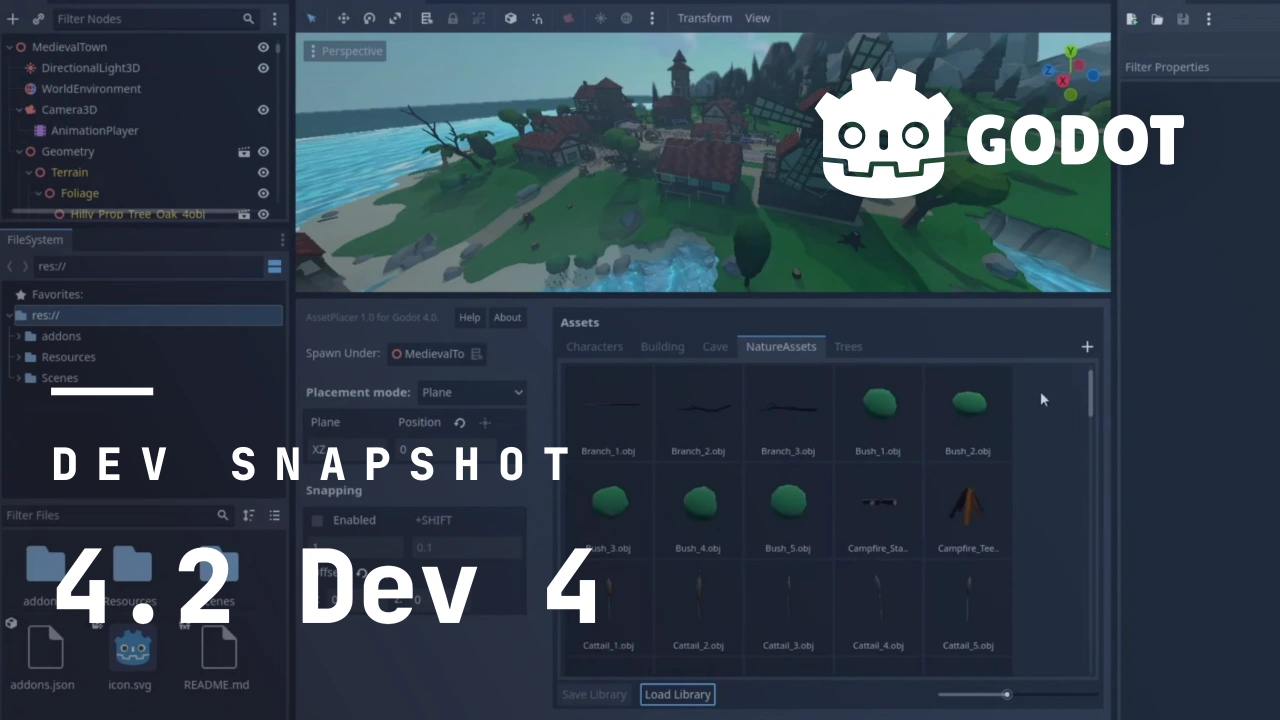 The Godot team is making strides with their 4.2 development branch, releasing their fourth dev snapshot that includes nearly 250 PRs merged in just over three weeks. The update is packed with features and improvements, from initial support for C# on Android to a slew of rendering bugfixes. They've also tackled an infamous input bug affecting WASD + D-Pad combinations and made significant enhancements to GDScript. The master branch is on track for a beta release in early October and a stable release in November. So, if you're into Godot, this update is a big deal and worth checking out.
Unity's #MadeWithUnity Roundup
Unity had a killer August, and they just did a round up to tell you all about it. First off, Phasmophobia's user base skyrocketed, hitting over 86,000 concurrent players—that's a 300% growth in less than a month! On the Steam charts, 12 Unity-made games made it to the top 20 new releases, including heavy-hitters like Ultimate Epic Battle Simulator 2. And let's talk about Sea of Stars by Sabotage Studio; the game sold 100,000 copies on its first day! Unity's also been busy on the socials, hosting Creator Spotlights and live game sessions. So, if you're not keeping tabs on Unity, now's the time, folks!
Scottish "Games for the Weans" Sale
Glasgow Children's Hospital and Neonhive have teamed up for something pretty awesome—a Scottish Games Sale on Steam, all to support "Games for the Weans." This initiative aims to bring gaming consoles and games to the kids at the hospital. A bunch of Scottish game devs have jumped on board, offering their titles at discounted prices. So, not only do you get to snag some awesome games at a great price, but you're also doing it for a fantastic cause. If you ask me, that's a win-win!
Galo, a Godot Indie Game
The creator highlight for this week is Galo, by creator @GhostHandDev. This pixelart metroidvania game is made in the Godot engine and sports a gorgeously retro looking aesthetic and cleverly mixes 3D and 2D to create an extremely unique style. The gameplay looks incredibly satisfying and I can't wait to see what more lies in store for this title. Wishlist it on Steam today.
That's a wrap!
That's all the game dev goodness I've got for you this week! If you're enjoying what you're reading, don't be a stranger—get in touch with me on Twitter or Instagram. Got a burning question or want to get your game featured in this newsletter? My inbox is always open: tom@codewithtom.com. And also, if you're going to be at Unity's Unite 23 conference in Amsterdam this November 16th, I'd love to talk to you; I'll be there soaking in all the Unity magic, I can't wait!
Until next week, happy game dev'ing!
Tom